UPCOMING RATSKIN RECORDS EVENTS & TICKETS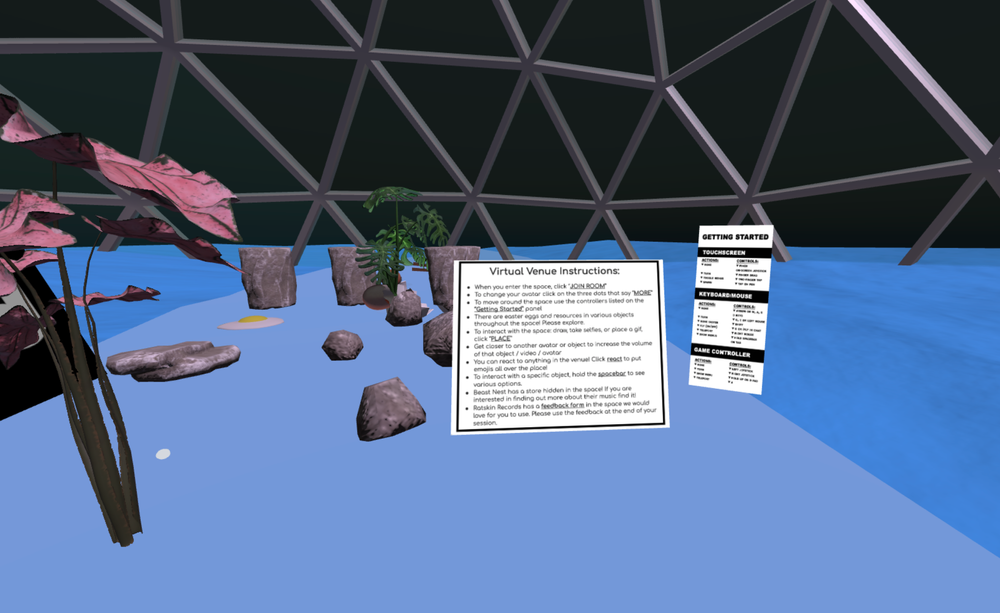 tickets for upcoming ratskin records virtual events
NEW VIRTUAL DATES ANNOUNCED SOON.
recent past events
"Nightmare In Paradise" Album Release Show w/ TYLER HOLMES, SPELLLING , PLANINGTOROCK 
August 27, 2021 7-10PM PDT 
Tickets: $5-25 Suggested Donation 
: To celebrate the release of Tyler Holmes new full length on Ratskin Records, titled "Nightmare In Paradise" Tyler has curated a fantastic evening of virtual performances to celebrate the release. There will be performances from SPELLLING , PLANNINGTOROCK, and TYLER HOLMES themselves. 
TYLER HOLMES 
 https://tylerholmes.bandcamp.com 
TYLER HOLMES (They/Them) is a singer-songwriter, visual and performance artist who uses music as therapeutic device. Coming from a turbulent and traumatic 'cult-like' early life, Holmes has spent a lifetime crafting their own Black, Queer narrative by pushing the limits of their imagination. In a constant state of reinvention they make a mixtape of every moment, from song to song the audience is getting a wholly different animal. Holmes has a chameleonic singing style that ranges from Folk inflected whispers, to morose Goth wails, to Gospel bellows. Envisioning themself as the imaginary child of Björk and Tricky, Tyler Holmes is on an isthmus between Trip Hop and Experimental Pop. They use a surrealist lens on a wide variety of genres, often blending diaristic narratives with dark, dream-like whimsy. Autobiographical and absurd, their writing is alluring and uncomfortable. Both brutal and beautiful, bringing the audience into a shared space of healing and catharsis. They perform with a constantly changing electro-acoustic arrangement, always finding new ways to showcase an intimate horror. Most recently Holmes' released their music video "Nothing" via Paper Magazine. In 2019/20 they released a series of EP's and Spring 2021 marks the release of their highly anticipated new LP "Nightmare In Paradise" on Ratskin Records. 
SPELLLING
 https://spellling.bandcamp.com 
Venturing to push the boundaries of her primarily synth-based work, SPELLLING took on the ambitious task of orchestrating and self-producing an album that features an ensemble of 31 collaborating musicians. The Turning Wheel incorporates a vast range of rich acoustic sounds that cast SPELLLING's work into vibrant new dimensions. The double LP is split into two halves — "Above" and "Below." Lush string quartet shimmer combines with haunting banjo and wandering bassoon leads, as the album progresses from the more jubilant, warm, and dreamy mood of the "Above" tracks to the more chilling and gothic tone of the "Below" tracks. This progression is anchored by SPELLLING's familiar bewitching vocal style that emphasizes the theatrical and folkloric heart of her songwriting. 
The release of The Turning Wheel was delayed by almost a year from its intended release date in September 2020 but the forced pause ended up serving as a blessing in disguise. Navigating the chaos of recording and producing the remaining instrumentalists – either remotely or through rigid socially distanced studio sessions – was immensely difficult, however the delays ultimately opened up the opportunity for SPELLLING to dedicate more attention to her lyrics. The Turning Wheel demonstrates a distinct evolution of lyrical style, from the more incantatory and abbreviated approach of her previous work to a more expansive, narrative production. 
The Turning Wheel is a manifestation of this considerable effort, time, and collaborative energy and will surely become a classic for its elegance. And while the artist's eclectic influences, from soul to psych to pop to noise, remain present, something entirely new has also been born in the cosmic soup of this massive undertaking: a grand and genreless adventure. One that allows the artist's authenticity to shine and also marks her as a conduit for something with a magic of its own. 
SPELLLING's previous bodies of work have earned her critical acclaim. Her 2017 debut Pantheon of Me was Bandcamp's #4 Album of the Year and they raved: "Cabral has it, from her careful sense of composition to her charismatic presence to her ability to communicate with her music straight through to the listener's heart." Her first release on Sacred Bones, the Hard to Please single, was named a Best Track by The Guardian, who said the song was "like Solange looking in a haunted mirror." Her second full length Mazy Fly saw great support from the likes of Pitchfork ("it's the sound of an artist's vision sharpening, pointing outward."), Stereogum ("It's a gorgeous and evocative and provocative record, and it points to a future where Cabral could pretty much do anything."), Paste ("too appealing to resist") and once again found its place in The Best Albums of 2019 at Bandcamp. 
PLANNINGTOROCK
Born in Bolton, UK, Planningtorock – aka. singer-songwriter, producer, composer and director Jam Rahuoja Rostron – has been using music as a mirror to learn more about themselves for the last seventeen years. 
Jam uprooted to the Estonian capital – a beautiful and gentle-paced, cobble-stoned city on the Baltic coast - after spending two decades in Berlin. Already feeling restless and ready for a change, everything fell into place when the musician met their partner through mutual friends in Helsinki; soon, Jam relocated to Riinu's home city full-time. Last September the couple married. LGBTQ+ marriage isn't legal in Estonia, so the ceremony took place at the city's British Embassy – in theory, the country recognises marriages which took place abroad. In reality they have been struggling to get their partnership acknowledged in their home country while under a right-wing coalition government. With the prime minister now ousted over an alleged corruption scandal, Estonia is going through a time of great political upheaval. Distant hope of a more progressive government is on the horizon – and 'Gay Dreams Do Come True' represents Planningtorock's own personal exploration of queer love. 
A loud, proud, unabashed celebration, Planningtorock's new EP 'Gay Dreams Do Come True' stands in opposition to the tragic queer narratives which can sometimes dominate the mainstream, Jam set out to make a record which basks in the all-consuming joy of queer love instead, and the sense of belonging and safety that comes with it. "I feel there's something very political about owning queer happiness," Jam says, "cutting it out and saying: we have a right to be happy. I want to make quite blatantly gay music to take up space. I felt like I was gay-dreaming on the day Riinu and I got married! There were little birds and stars around my head," they say, laughing. "I was really pinching myself." Speaking further about the track, Jam says, "this song is a dedication to my love, my wife Riinu and to the Black trans women who fought for the rights we have today as queer, gay, non binary lesbians." 
Propelled by buoyant synthesised strings and house-inflected urgency, warmth and contentment pours out of 'Girl You've Got My Heart' as Planningtorock promises their devotion: "your love is good, so good for me," they declare. There's also a fire burning at the core of 'Her Heart Is My Home' – skittering beats bursting forth out of cinematic orchestration as a pitched-up Planningtorock sings of the sanctuary they have found in love. It's the artist's most personal release to date – inspired in part by the process of making 2018's similarly exposing album 'Powerhouse'. "When you open up to people and you share your painful experiences, people are like, 'thank you, I've got a load of bags too!'" Jam says. "It's a fantastic exchange, and it made me really grow in a way I couldn't have grown without it. It released me, quite literally."

WIZARD APPRENTICE - Mozilla Hubs Performance 
January 14, 2021
6PM-7PM PST
RSVP HERE On Eventbrite 
Wizard Apprentice (pronouns she and/or they) is a songwriter, performer, and video artist who co-runs an experimental music label, Ratskin Records. Her, along with her labelmates, are designing a mixed reality events venue that centers accessibility. There's still a lot of fundraising, testing, and design work to do before the venue can actually serve the diverse range of physical, emotional, psychological orientations of event goers. In the meantime, those who can access the first iteration of this on-going project are invited to check it out. Wa Na Wari: Black Art Center is hosting a performance and exhibit by Wizard Apprentice which will take place in a venue created in Mozilla Hubs, which can be experienced via laptop, smartphone, or Occulus VR headset. If you've played Animal crossing or Minecraft, Mozilla Hubs is similar. Wizard Apprentice will orient you and take you on a tour of the space. There'll be opportunities to explore, mingle, and attend a musical performance by Wizard Apprentice.
Wizard Apprentice and Ratskin Records are sharing this venue prototype with the intention of attracting more attention and funding. As the project budget increases, we can pay accessibility experts and web designers to create a more accessible space. Please feel free to contact us with any questions or feedback regarding access. Ig: @wizard.apprentice email: bossabot@gmail.com
Accessibility Info:
-Attendees can choose an avatar and name that will allow them to enter the space. Some attendees may be anonymous.
-The site allows attendees to communicate with each other. You have the choice of speaking through the laptop and smartphone microphone or typing in a text box.
-Wizard Apprentice will use both spoken and written text to communicate to attendees. Performances will be captioned.
-Mozilla Hubs has built-in navigation features for blind and visually impaired users, however, Wizard Apprentice is new to web design and probably isn't using those features correctly at this stage of the project. That means the venue is not likely to have effective image descriptions and may have competing sounds that make navigation difficult or unenjoyable.
-Laptop users: The current version of the venue requires the use of the keyboard (to move left/right/forward/back) and the mouse (to rotate the view, to move objects, and to click on links). Smart phone users: requires swiping left/right/up/down (to look or move in those directions) and swiping thumbs towards and away from each other to move closer or further from an object. VR Headset Users: The venue has not yet been tested using VR headsets. Feel free to try it out but at your own risk.
-There will be no strobe effects.
RSVP HERE On Eventbrite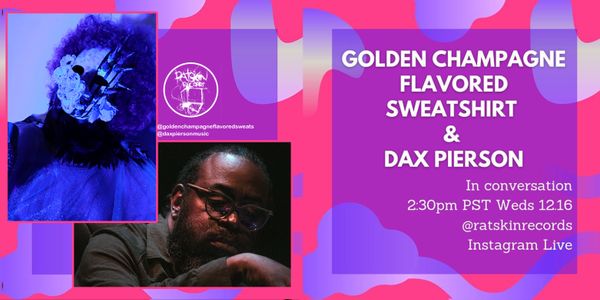 DAX PIERSON & G.C.F.S. - IN Conversation: REBROADCAST
JAN 25, 2021
In conversation #1 dax pierson & golden champagne flavored sweatshirt  -  2:30 pm PST / 5:30 pm est on @ratskinrecords instagram
GOLDEN CHAMPAGNE FLAVORED SWEATSHIRT
http://goldenchampagneflavoredsweatshirt.com
http://ratskinrecords.bandcamp.com/album/expectant
Bio:
Golden Champagne Flavored Sweatshirt is an electronic music producer, curator, and multi disciplinary artist. Working with sound, video art, live and recorded performances across a myriad of disciplines and aesthetics. As an artist, cultural contributor and advocate for Black creatives; GCFS connects artists across mediums to create meaningful cultural exchange. Golden Champagne Flavored Sweatshirt has performed at Voltage Drop Industrial Danceclub, Pro Arts Gallery Hybrid Series, International Noise Conference , STASIS Festival of Sound, KFJC 89.7FM and is featured on ROGUE PULSE/GRAVITY COLLAPSE compilation.
DAX PIERSON
http://daxpierson.bandcamp.com
http://ratskinrecords.bandcamp.com/album/live-in-oakland
Bio:
Dax Pierson is a musician/producer who has called the East Bay home for 20 years. He was co-founder of the bands Subtle and 13 & God, a touring member of left of center hip-hop group Themselves and an associate of the Anticon collective. In 2005 Subtle encountered black ice in the middle of the country while on tour and flipped over, leaving Dax with a spinal cord injury in the 5th and 6th vertebrae. Since his individual fingers are now paralyzed, Dax has switched to using a laptop controlled with iPad apps in order to produce. The last 12 years have been spent exploring the possibilities that technology could offer, often with time-consuming learning curves. His work is currently informed by limitations, college radio segues, hip-hop, '90s post-rock, odd time signatures, new techno, ambient drones, bobbing head beats and sentimentality.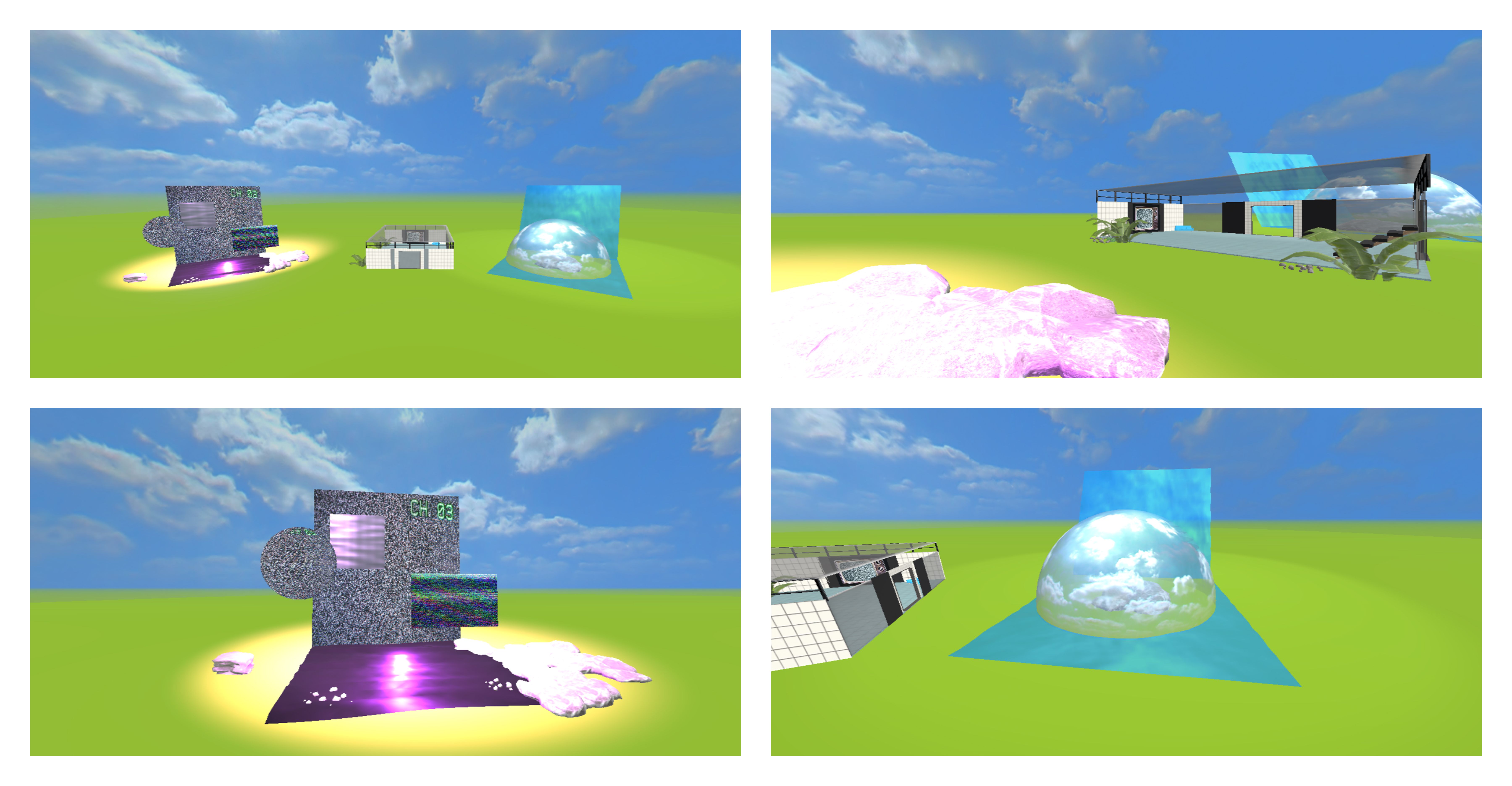 Mixed Reality Festival
 October 2021 
TLDR; 
Mixed Reality Festival  is an access-centered VR festival featuring current and upcoming Ratskin Artists and collaborators. Mixed Reality Festival is an immersive space for de-colonial artists that is completely untethered from the daily oppression of our lives.  It is a platform for artists to engage in aesthetically rigorous self-expression from the safety of their own home. We are accessibility focused and we want you to engage in our dream! Please donate and spread the word to ethically minded sponsors and donors. Check out our trailer for more information and read more here.