RATSKIN RECORDS Announces "S3RP3NT"  from MONA DEMONE Preorder Now, Out 8/23/22 Plus Shirts, Sticker Pack, Poster & More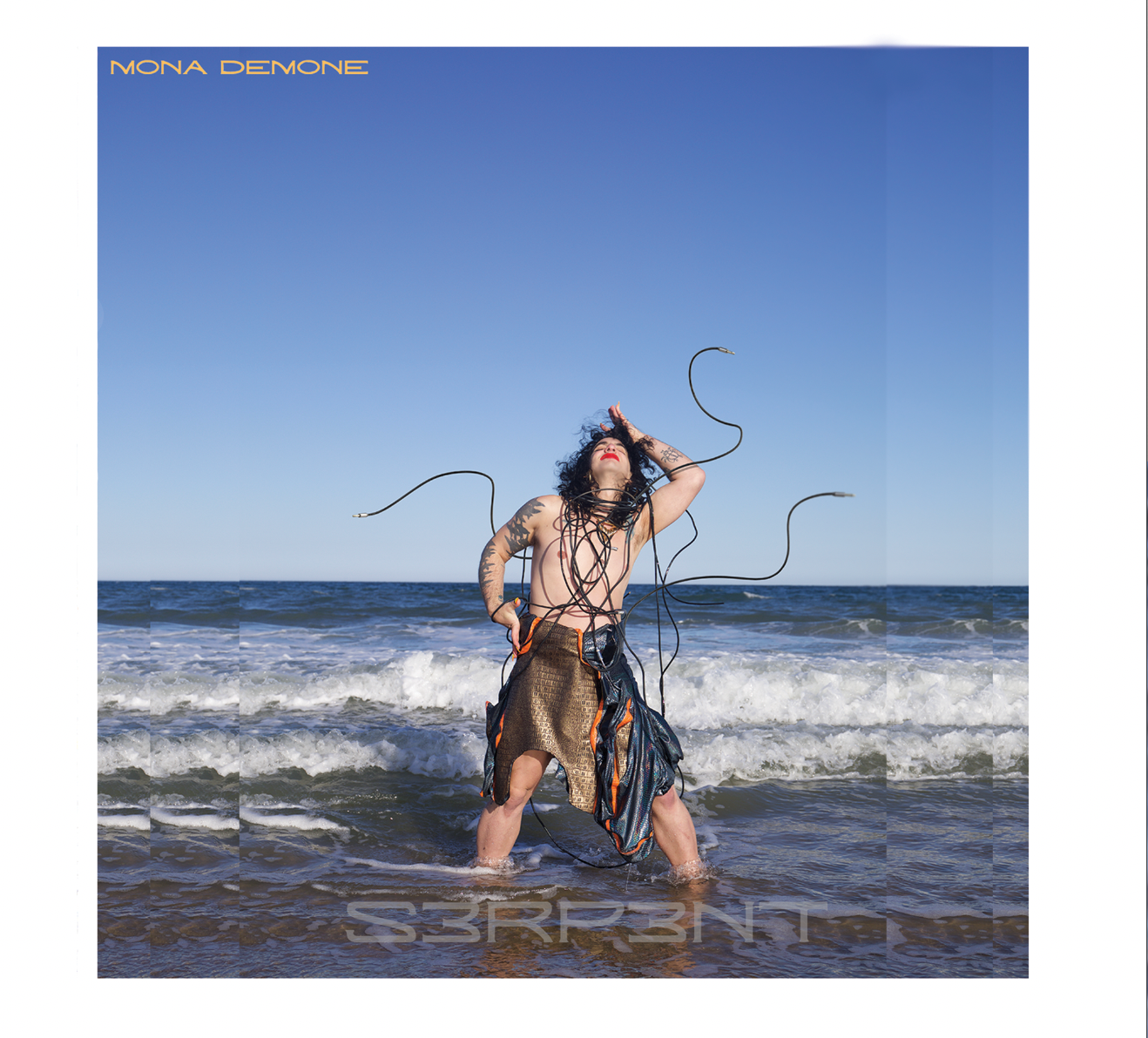 "Legendary underground artist, trans icon, and birth mother of queer worlds— when Mona Demone gives us song, we dance! 
S3RP3NT is a siren-wail from the thump thump thumping flesh machine. Gorgeous like a diesel mama! The song-beauty drives us forward, defiant, and transcendent, all joyous trans bodies and revolutionary release. Nourishment for our times. 
If you ride the serpent / Then we are destined to collide Mona sings. Like how she filled her greasy bus with gender freaks and drove it across the country to make noise, and I remember by the time the bus got to the west coast, everyone had lost their minds. How we all long to be on that bus! 
S3RP3NT is full of dance hits, lots of hips to go with Mona's remarkable transsexual angel voice. Tones all her own. Crystals on the ocean. It's the ocean you know from her comix, a dying ocean but you dance as she sings you into it because that voice. 
Mona sings for the transsexuals. She doesn't lie to us, she throws us into the honest best of who we are. I've seen her stitch trash into fantasy, but S3RP3NT is woven differently. It's the hours of her motherhood, and time found between, over years. It's the persistent alien spirit. It's Mona Demone birthing again, her child lovingly in her arms, her many trans families dancing and singing." 
  - tee clutch, 2022 
"The songs of S3RP3NT are meant to be anthemic. Trans people don't have enough anthems and we deserve to be celebrated. We break barriers simply by existing as our true selves. I want these songs to lift us up, to celebrate us, to dance, to connect and to dive deeper into our transformations. Let's grow our roses now while we are still here. Make the soil rich and send it forward. 
S3RP3NT is a collection of songs constructed in Los Angeles, between 2017 and 2019 on an Electribe esx-1. It's a love letter to Los Angeles, its ocean, and to trans people. Each song of S3RP3NT begins with beats building and layering upon repetitive bass lines, and hooks to knit a shelter, to stretch out and hold our changing forms. Meanwhile the vocals loop and ride upon one another– a call to other trans people, femmes, NB, queers, sex workers, people struggling through capitalism, to join me in the present form they inhabit". - Mona Demone 
When you are outside of LA, people like to point out that the water will run out within the year, but inside the city, the traffic carries on. "light as a feather, stiff as a board" and somehow it all just floats. 
"Don't drink the water and watch the direction of the sun.If you fall down, you'll turn to sand and dust and you'll never find your way back home." -BRIN3 
It's a city on the ocean. Sometimes I'd be missing it for weeks when it's just a train or bus ride away. However, the ocean was my reset. Comprised of the same water that has always been on earth. I called it the library of time. It holds the oldest information- the most solid part of me - the power to transform.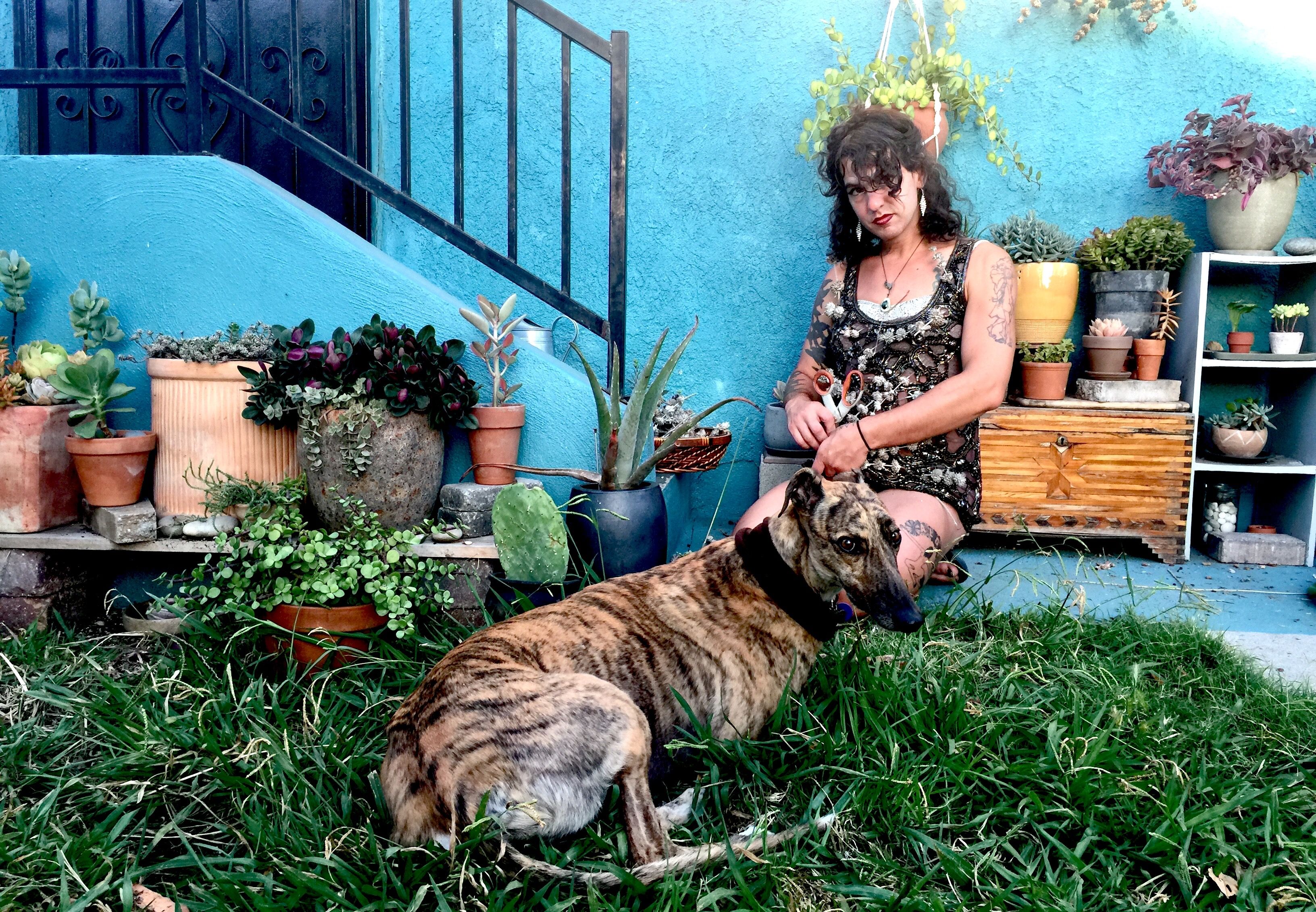 "Ancestorial knowledge, the past that follows, informs your cells from the start "- WAV3 RAV3 
This album is: new estrogen, hot oil in pistons, delphinium growing between rocks, queer noise, beat worship, connection, sweat - a journey to motherhood.  Serpents represent creative life force and rebirth. It's transformation, healing, and immortality through a linage of queer people before us. As trans people we get to create ourselves on our own terms and in this we also create our own family structures. Together, we erode a binary and open up for more. 
I started transitioning shortly after moving to LA and just before starting diesel mechanic school. Before that I lived on the queer land project in the Southeast, that had me feeling so fluid, I didn't feel the need to declare any specific gender. The plan was I'd learn to work on trucks, then move back to Tennessee where I'd teach any queer that wanted to learn how to convert diesel vehicle to veggie oil and open a truck stop called Dandy's off the highway nearby. There'd be a bright neon yellow dandelion towering over the highway, welcoming, truckers and road trippers to a full-service diesel repair, 24hour karaoke bar and a diner sustained completely by queers. 
"In your eyes, it's a man with a bent mind, undefined by the confines of the flesh that holds us." -SPIN3. 
The moment I entered the city, by way of dusty green humming diesel bus (my home for the past six years) something was already shifting in how I felt. I enrolled at LA trade tech for diesel. After school I'd take the bike path down Venice to change oil and in the evening, I'd ride the Expo line home, put a dress on and finally relax. I wore so many different "hats" and had several different names depending on where I was. 
"Lipstick as amour, earrings as shields, Eyeliner sharper than steel, as sharp as you feel." - NO FL3SH 
Like Genesis P-Orridge said, I wanted to rob the bank of information. My plan was to return to the land project with all the knowledge that we all relied on to drive the country roads. In my mind I was robbing the bank, but I wasn't an out trans person in school or work. Now I see that not being open about who I was robbing my power. I spent most days stressed out to truly ever immerse myself into the inner workings of trucks. 
"We bring your destruction; this is your end. Your poisoned waters, rising from the gutter." - WHOR3Z 
From this dysphoria came a need to make music which defined my existence. I'd wrap myself in sequins, leather, gems, tower in heels. I'd tromp around with a suitcase full of chords and mixers, balance the levels, open my lungs to fill the air.  We'd fall into the beat together. We were in our bodies.  I'd sing to everyone , both on, and about start their transition, all in their own ways. 
Ultimately it is T4T (trans for trans) love which has allowed me to connect to my body, to fully see and feel seen. When I met a hot NB cutie who set me afire in the height of LA summer, as I biked the sun faded streets to the words "share this dimension" would repeat in my head until our realities entwined. It surprised us when we became pregnant. We were so queer we had almost forgotten that sex wasn't just exploration of others and self. Then we were two trans people expecting a new life. When I plugged in my gear, raised my head back and sang," I have seen you, in my dreams" it started to hit different. A sound wave bent and amplified, cutting through the humidity.  Motherhood as a chance to see it and feel it again for the first time. A serpent finding its tail." 
We've always been here, the mouth of the future 
We are not going away, we are not going away 
Rejoice! She has given us another world!  - MONA DEMONE
"S3RP3NT" is out 8/23/22 and is available for preorder now on. CASSETTE, CDr, Shirts. and Vinyl sticker packs. Listen to the first song, "Body" now.