Today is a special day, today we announce the most ambitious  RATSKIN releases to date, the monumental solo opus from one of the most talented and magical people i know, Dax  Pierson  titled "NERVE BUMPS (A Queer Divine Dissatisfaction)" - two plus years in the making production wise, conceptually many many more. We've joined forces with Bay Area Powerhouse label  Dark Entries Records to present this in as many formats as possible- LP, Cassette, and Digipak CD! This is a huge step for us and we couldn't be more excited to having a small hand in releasing this beautiful work into the world. 
There is no. possible way for me to overstate how important of a release this is for Dax and the electronic community in general, but we will do our best to try. 
To say that Dax is a personal musical hero of ours, and many others would also be a massive understatement.
PREORDER IS LIVE NOW via Dax's bandcamp page and our webstore. 
Thanks to XLR8R fo sharing this beautiful feature on "NERVE BUMPS (A Queer Divine Dissatisfaction)"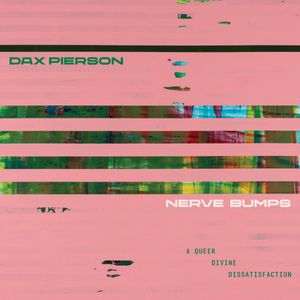 Dax Pierson's debut solo LP is coming via San Francisco's Electronic powerhouse imprint Dark Entries Records and Oakland's Ratskin Records collective. Pierson, an Oakland-based underground legend, has pushed the boundaries of experimental electronic music with his soul-moving opus Nerve Bumps; A Queer Divine Dissatisfaction, an endeavor two long years in the making. On Nerve Bumps, Pierson blends hip hop, jazz, John Carpenter-esque arpeggios, trap/anti trap-influenced percussion, and musique concrete-informed experiments. Futuristic synthesizers cut through layers of fog as Pierson's bombastic drum programming forges new worlds within themselves. 
Pierson tells a complicated and inspiring story on Nerve Bumps, which is both a privilege and a gift to experience. Tracks such as "I Slay The Pain" reiterate that although Pierson has to live his life as a quadriplegic, this does not define him as an artist or as a person. The cinematic "For The Angels" plays as a masterclass in heart and body-moving rhythms and undulating synthesizers. Pierson directly confronts the listener on "Snap", an act of solidarity with the disabled community. Sputtering orchestral swells become encapsulated by splintering shards of Pierson's voice, evoking his relentless determination to learn new music production methods as well as share his experience with losing certain physical abilities. The album's closing track, "NTHNG FKS U HRDR THN TM", is a perfect distillation of the varied emotions explored on the album. Warm, heavy synths masterfully guide us down a psychedelic slope through the track's twelve minutes. On Nerve Bumps, honesty, empathy, and humanity bleed through the speakers like a dark liquid just beneath the skin's surface. For Pierson, music is his lifeblood, both as a creator and a listener. 
Nerve Bumps was mastered by George Horn at Fantasy Studios. The front cover features a painting of pink and green horizontal stripes by Pierson's partner, artist Chuck Nanney. A photograph of Pierson's wheelchair by Lenny Gonzalez graces the back sleeve. Dax's guiding mantra throughout this journey has been a quote from choreographer Martha Graham: "No artist is pleased… There is only a queer divine dissatisfaction, a blessed unrest that keeps us marching and makes us more alive than the others."