Thank you so much for your continued support.  A LOT has been happening here, so much so that we almost cannot keep up. 
GOLDEN CHAMPAGNE FLAVORED SWEATSHIRT "EXPECTANT" ALBUM RELEASE SHOW STREAMING LINK :
Begins tonight at 8PM PST / 11 PM EST 
TWITCH.TV/RATSKINRECORDSOFFICIAL
Donate Directly:
Paypal: order@ratskin.org
Venmo: @ratskinrecords
CashApp : $ratskinrecords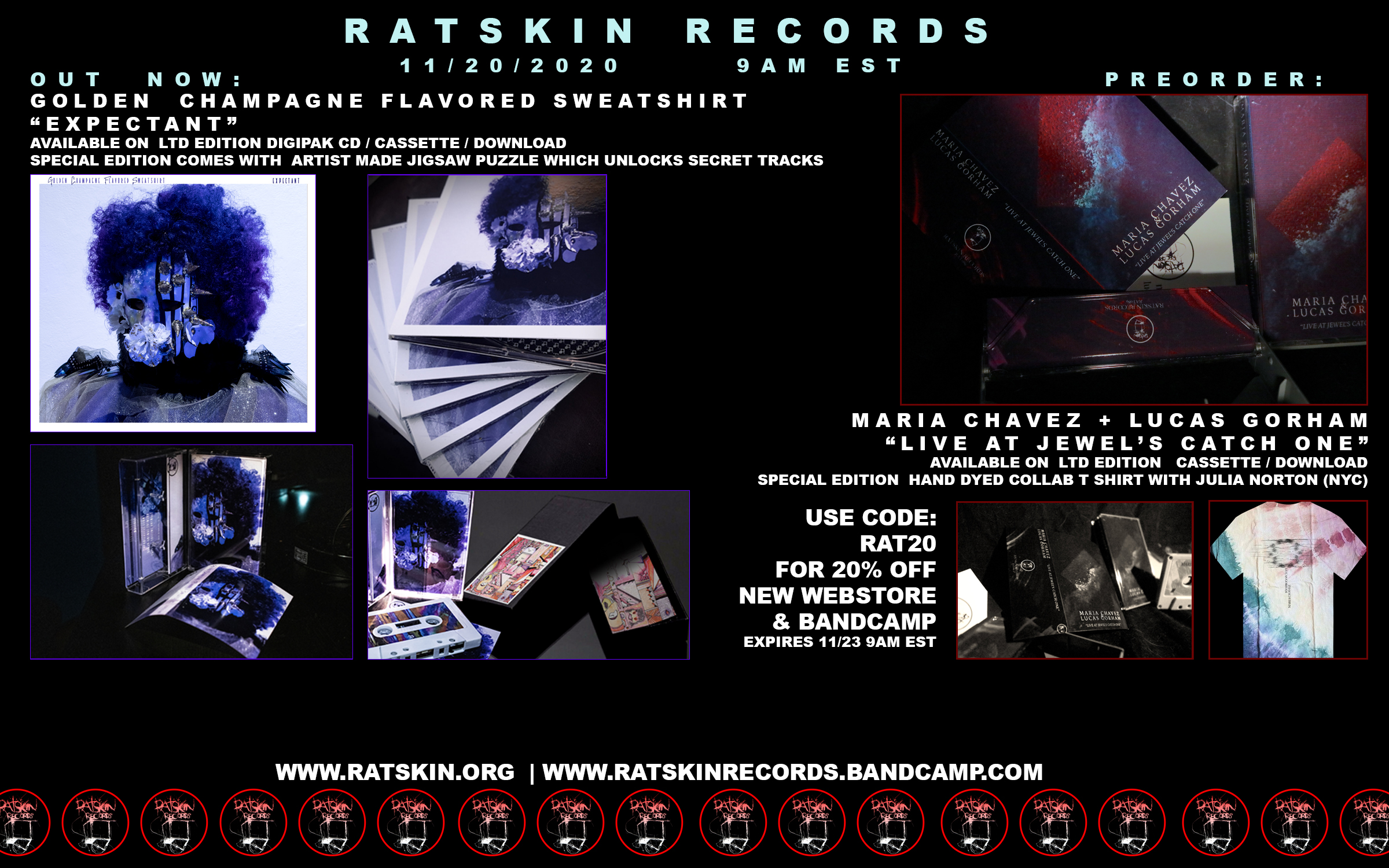 First off, WELCOME TO OUR BRAND NEW WEBSITE! We are still adding a lot to the site over the next two weeks so bare with us while that happens but  for today we have a BRAND NEW WEBSTORE which you should go check out, we have some special one off items in there over the next few weeks as well as a DISCOUNT BIN for special items. To celebrate, we're giving you 20% off anything purchased through the weekend with discount code "r a t 2 0".   
Second, we have a brand new preorder announcement we are beyond humbled and excited  to announce our very next release, RAT089, MARIA CHAVEZ / LUCAS GORHAM "Live At Jewel's Catch One" Cassette and Collaboration T-Shirt. The shirts are limited to 25 and are hand dyed with natural dyes from NYC based artist Julia Norton in collaboration with Maria Chavez. 
you can CLICK HERE TO PREORDER THE CASSETTE and/or T-SHIRT from our new web store, or order directly from Bandcamp.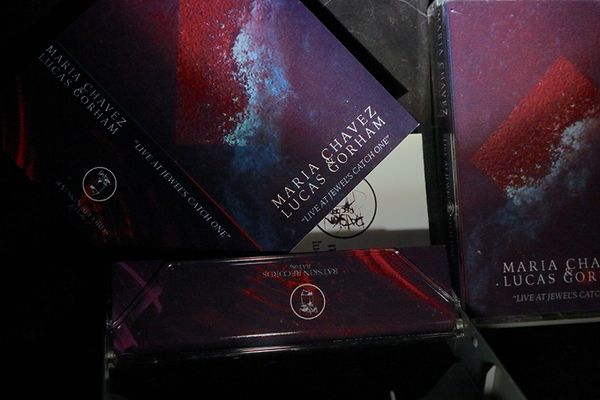 "Abstract turntablist, and sound sculptor Maria Chavez and avant-garde guitarist Lucas Gorham. This collaboration afforded us with a unique opportunity to work with both artists and release a sonically and conceptually beautiful sound work. Both Chavez and Gorham are known internationally for their acute investigations into improvisational sound, the complexities of chance improvisation and free-jazz inspired compositional 
methods, unifying the breath of all sounds big and small, and seemingly the very essence of sound herself. 
On "Live At Jewel's Catch One", the duo creates a deep, rhizomic, sonic investigation of texture and rhythm that span deep listening through chance operations. Synthesizing the space between Chavez's uniquely brilliant and idiosyncratic methods of turntablism and Gorham's fractured, abstracted lap-steel guitar/electronics work, a beautiful sonic adventure emerges. Chavez's extended technique of turntablism, chance operations and compositional strategies pull equally from John Cage, Elaine  Radigue, Pauline Oliveros and DJ Premier alike.
Our newest release, "Expectant"  from GOLDEN CHAMPAGNE FLAVORED SWEATSHIRT, is released TODAY!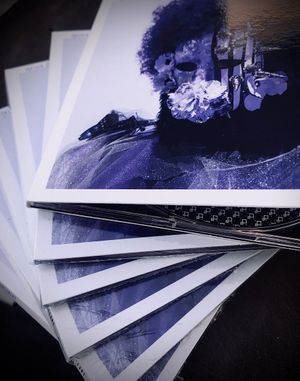 ORDER HERE ON BANDCAMP. ALREADY it's been reviewed in ASTRAL NOIZE, THE TAPE DECK , THE SEATTLE PI,  and lastly  SHI THE MUSIC CRITIC MAGAZINE  and you can read them by clicking these link  here! 
The special editions are almost sold out, last count at the time of writing this there were only TWO special editions remaining. 
"It's obvious just from listening that blood, sweat and tears have been poured into this album's production. Each of the tracks function both on their own and as a whole. The record veers between sublime washes of downtempo techno beats over hypnotic, buzzsaw waves on tracks like 'Sea Creatures', whilst tracks like 'Horsemouth' jar the listener's brain with snarling, crunchy waves of synth and skittering beats, though never suffer from this juxtaposition. Each track flows neatly into the next, perhaps because of the keen line of thinking behind Expectant's hyperactive catharsis. Golden Champagne Flavoured Sweatshirt explains that "the personal and political nature of creating art under capitalism has been an intense journey of self actualisation. This is to remember these feelings, this time, this part of my story." - Astral Noize 
"Golden Flavored Champagne Sweatshirt's new record, like so many great boundary-breaking sonic works, says a great deal with a careful fusion of sounds. Yet it'd be foolish to claim it's simply a response to recent catastrophes, despite knowing titles like "3.26_". 2020 might have been one of the most traumatizing years in recent history for American Black people in particular, but those traumas have roots dating back decades, even centuries. Albums like Expectant, with its distinctly misanthropic POV and pointed discord, speak to ancient queries still ignored, often aimed less at sophistic resolution than release." - The Tape Deck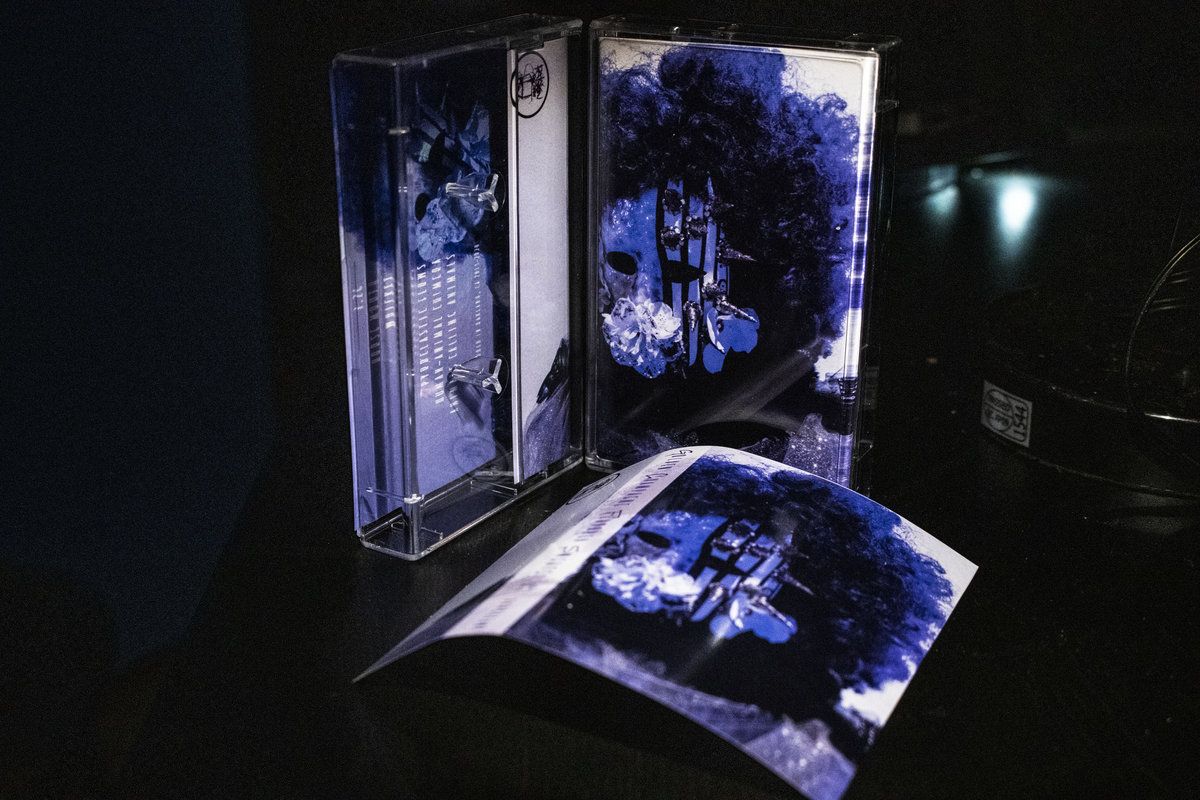 "GCFS is one of the artists looking to take electronic music out of its almost cloistered existence and bring it to a wider audience. She's a multimedia artist - working in everything from watercolours to digital to create visual art - and she brings the sensibilities of both musician and painter to her work. Her pieces are a type of synaesthesia - generated sounds which create images and pictures in your head. 
This isn't music you can listen to as background or something you're going to hear piped in to some coffee shop. This is music you have to pay attention to. Like a painting which reveals its secrets the longer you stare at it, the more you listen to Expectant the more you will appreciate the atmospheres and moods it creates."
- Seattle PI
Also last Friday, we launched a Trailer and Go Fund Me Campaign for our largest and most realized project to date, MiXED REALITY FESTIVAL, a festival and virtual venue experience centering accessibility through the lens of de colonial artists and musicians. The festival is happening in October 2021, and we began working on the. concept and basic testing in October 2019, and are beyond elated to share the initial trailer and fundraising campaign. 
Also our final virtual event of 2020 is happening December 3 and is an album release for "Expectant". 
streaming right on Our Youtube Channel. Make sure to subscribe if you haven't.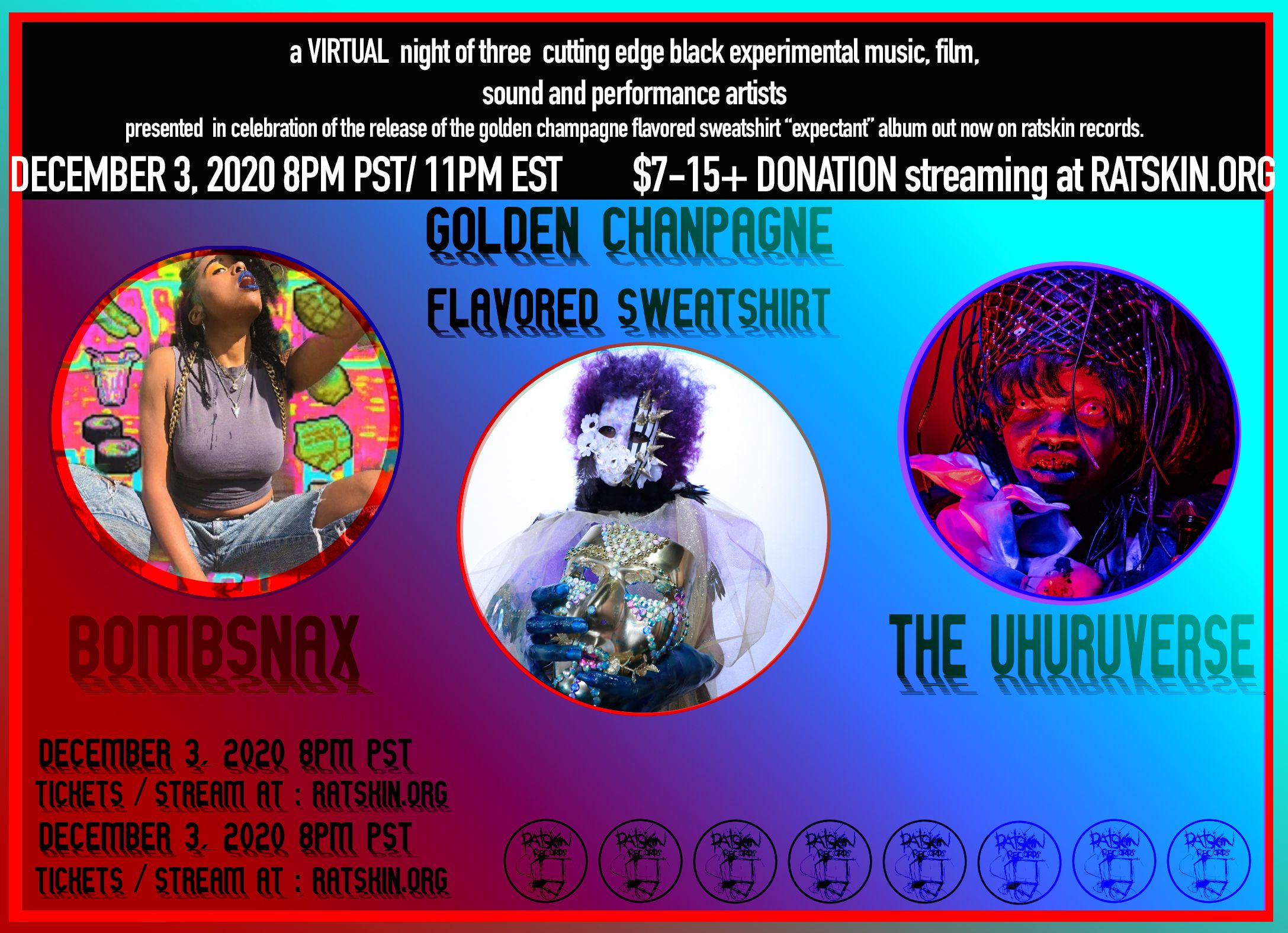 and lastly, MIXED REALITY FESTIVAL Trailer:Watch On YouTube
Mixed Reality Festival is an immersive VR event for de-colonial artists that untethers itself from the daily oppression of our lives. This project, by Ratskin Records , will feature current and upcoming artists that push the boundaries of music, experimentation, healing, and self-expression in 2020. Through years of arts-based organizing, we have found that our communities are in crisis around physical, emotional, and financial access to physical art spaces and COVID-19 has only exacerbated this crisis. As queer and trans disabled artists of color, we are often overlooked as a community that has, in many ways, defined the cultural output of the Bay Area. We are in the position of archiving our struggles and creating social relevance through our own narratives. Our shared value of collective liberation has given us the integrity, passion, and inside knowledge needed to develop a platform that responds to the needs of our communities.
Please direct folks who can spare a few extra dollars TO OUR GO FUND ME. We're not really calling on our direct community to donate, but rather share with friends and family who might be down to support i a number of different ways. 
Also thank you to everyone whop voted us BEST RECORD LABEL  2020 in SF BAY GUARDIAN & 48 HILLS, what an honor, read it here.