Preorder RAT090: GOLDEN CHAMPAGNE FLAVORED SWEATSHIRT "Expectant" on Cassette/Digipak CD/Download Now & Bandcamp Sale + End Of The Year Breaths.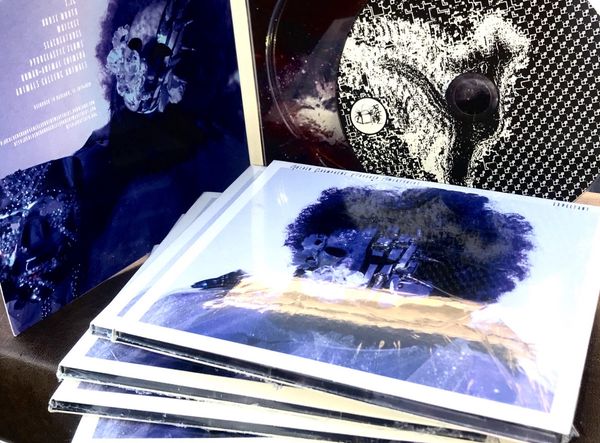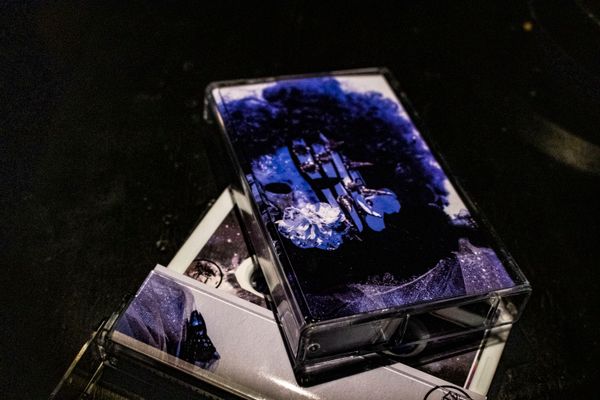 Thank you much for your continued support of Ratskin. This year has been challenging for many different reasons, but we have so many projects in the works that are really inspiring, that we cannot wait to share with you. We are extremely excited to present you with one of our two remaining releases of 2020 up for pre-order now. Our 90th release, Golden Champagne Flavored Sweatshirt, presents "Expectant" available on Cassette, CD Digipak, and Download.  The preorder is up now on our Bandcamp page.  
There will also be a Limited Artist Edition of the CD  (ltd to 15)  that comes with a Custom  Puzzle Which unlocks an additional section of the album, as well as an all-over print T-Shirt. Keep your eyes peeled for these special items.  
  
Black femme producer, Multi-disciplinary artist, and curator, Golden Champagne Flavored Sweatshirt has announced her debut full-length record, titled "Expectant" available for preorder now, and set to release on November 20, 2020  on Oakland based imprint Ratskin Records​.  
GCFS has crafted seven songs of futuristic, electronic-based soundscapes. The tracks on "Expectant" span from psychedelic post-industrial chaos to more minimalist, hypnotic ambient soundscapes. Without ever losing focus, or a central theme of distance space, and surrealism, the sounds of "Expectant" create an unwavering investigation of distortion and sound; bringing the listener into a tense and psychedelic journey.  
GCFS's "Expectant" makes huge strides in both concepts and feel from earlier self-released works, creating tracks that are both visceral and technically engaging, idiosyncratic and speak to layers of the collective subconscious of sound. "Expectant" shines a highly-focused yet surreal lens into the despair and desperation of an entity in chaos. 
Follow GCFS Here: Website | Instagram | Bandcamp  
Order JOEL SHANAHAN "Frozen Clock Hovering"  SECOND PRESSING on Cassette/Download Now.  

"Frozen Clock Hovering" is at once both dark and hopeful, disorienting and insightful, melancholy, and victorious. Through a meticulously idiosyncratic creative process, Shanahan has created a contemporary electronic music masterwork, bridging ambient and modern dance music. The nuance, care, and intentionality put into these compositions help solidify a psychedelic musical offering worth engaging in completely. The sounds of Frozen Clock Hovering oscillate just underneath our eyelids to sew warm beds as a temporary respite. Electronic pulses trigger huge electronic events, shooting us into space and slowly recoiling back through the cold atmosphere. plunging into the cold barren sea, leaving a faint crease in the sky, like brushes painting a sonic map to unknown futures, when you look back up into an unknown space all you can see is one, isolated Frozen Clock Hovering, " 
End Of The Year Breaths:

There will be one more release going up for preorder on October 16, 2020. We will also be launching our brand new website and web store  on that same day, but in terms of releases,  that's it for 2020. We are taking the rest of the year to reset and come back stronger with more specific intentionality around all of the projects we are working on. We are shifting into a more collective based mode with Ratskin artists Beast Nest and Wizard Apprentice running operations and content strategy as well as curation  This is a huge step for the label and all of our artists as they are two of the most brilliant minds we have ever come in contact with. To say it's an honor is a huge understatement. We have updated our mission statement and would like to share it with you here: 
and finally, we're announcing this special Ratskin Records Virtual Showcase: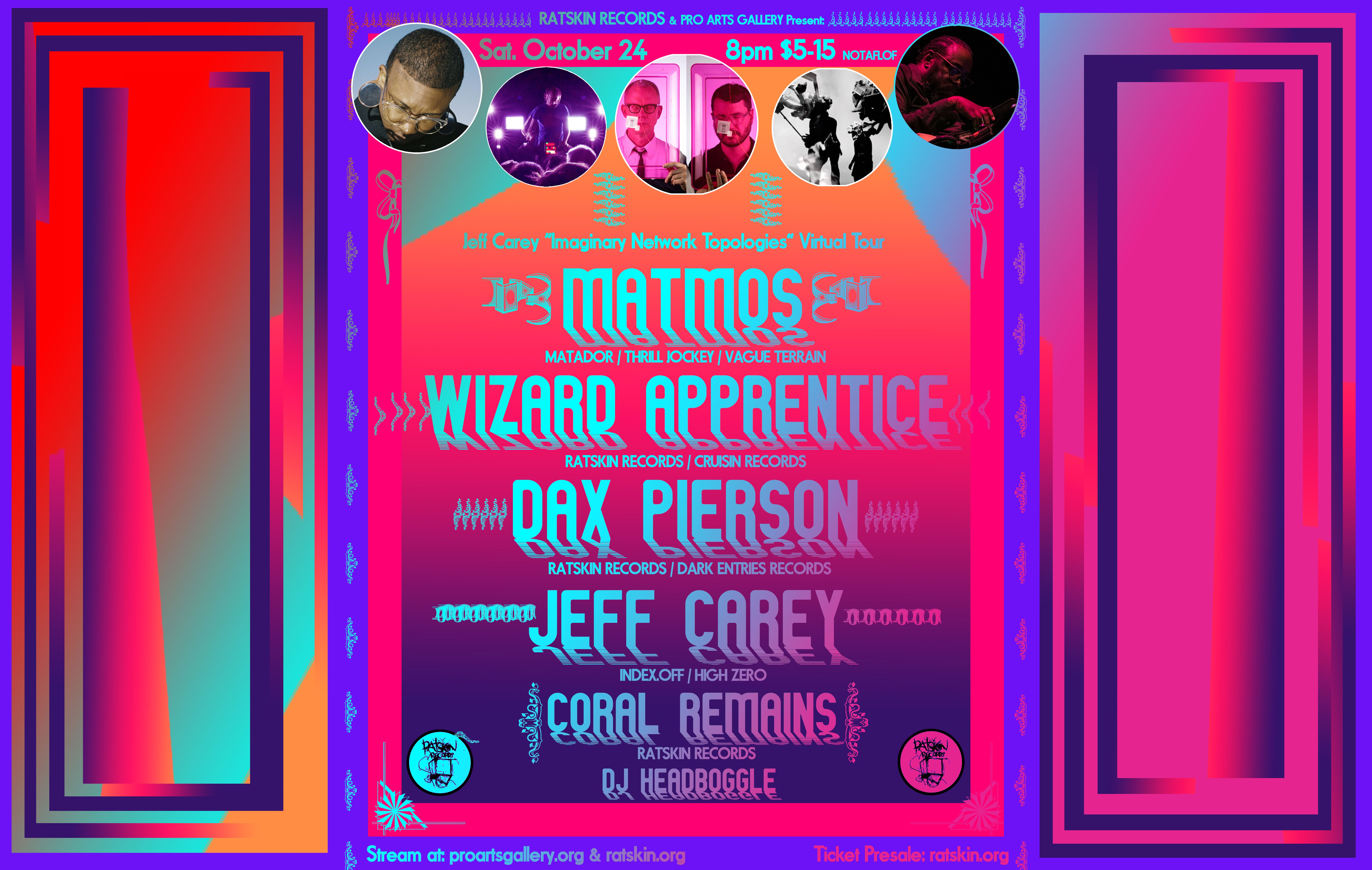 Saturday October, 24th, 2020. |  8pm-11pm.   |   $5-15 Sliding Scale Ticket Link 
RATSKIN Records Presents: A Virtual Night Of Outsider Experimental Music, Sound, and Performance featuring: 
MATMOS   |   matmos.bandcamp.com 
Matmos is M. C. Schmidt and Drew Daniel. Currently based in Baltimore, the duo formed in San Francisco in the mid 1990s, and self-released their eponymous debut album in 1997. 
Marrying the conceptual tactics and noisy textures of object-based musique concrete to a rhythmic matrix rooted in electronic pop music, the two quickly are known for their highly 
unusual sound sources: amplified crayfish nerve tissue, the pages of bibles turning, water hitting copper plates, liposuction surgery, washing machines, chin implant surgery, contact microphones on human 
hair, rat cages, tanks of helium, a cow uterus, human skulls, snails, plastic objects, cards shuffling, laser eye surgery, whoopee cushions, balloons, latex fetish clothing, rhinestones, insects, life support systems, inflatable blankets, rock salt, solid silver ingots, the sound of a frozen stream thawing in the sun, a five gallon bucket of oatmeal. These raw materials are manipulated into surprisingly accessible forms, and often supplemented by traditional musical instruments played the group's large circle of friends and collaborators. 
Dr. Drew Daniel is an associate Professor at Johns Hopkins University in the Department of English Literature and Schmidt is a homemaker. 
Their most recent album is entitled The Consuming Flame: Open Exercises in Group Form, and was released on Thrill Jockey Records  In August of 2020. It involves 99 collaborators and it's tempo is entirely at 99 Beats per Minute and is around 3 hours long. 
WIZARD APPRENTICE   |  wizard-apprentice.com  |     wizardapprentice.bandcamp.com 
WIZARD APPRENTICE (pronouns: she and/or they) is a music producer, live performer, and video artist. As a highly sensitive introvert, her multimedia projects are strategies for managing an overwhelming world. Her music is a combination of lyrical precision, minimalistic composition, and technically-amateurish charm. She creates media that takes advantage of user-friendly technology, skipping time consuming learning curves to focus on inventing highly relatable language for subtle personal experiences. She's not a gear-head, rather, a digital folk artist who vividly and simplistically expresses her inner world using resourcefulness and honesty. Her video work incorporates green screen graphics, digital puppetry, and compositing to produce imagery that's cerebral, campy, and hypnotic. She combines song and video to create multimedia live performances that explore intimate emotional themes. 
"Carter's singing harkens to that of a Catholic psalm or some sort of postmodern plainsong. Comparisons to Laurie Anderson would be appropriate. Although where Anderson confronts culture with a sideways glance, carter is entangled and entranced in the eccentric minutiae of her own psyche." - The Wire, November 2018 
DAX PIERSON  |  daxpierson.bandcamp.com   |   ratakin.org/artists/daxpierson.html 
Dax Pierson is a musician/producer who has called the East Bay home for 20 years. He was co-founder of the bands Subtle and 13 & God, a touring member of left of center hip-hop group Themselves and an associate of the Anticon collective. In 2005 Subtle encountered black ice in the middle of the country while on tour and flipped over, leaving Dax with a spinal cord injury in the 5th and 6th vertebrae. Since his individual fingers are now paralyzed, Dax has switched to using a laptop controlled with iPad apps in order to produce. The last 12 years have been spent exploring the possibilities that technology could offer, often with time-consuming learning curves. His work is currently informed by limitations, college radio segues, hip-hop, '90s post-rock, odd time signatures, new techno, ambient drones, bobbing head beats and sentimentality. Dax released "Live In Oakland"  to critical acclaim on R Ratskin in2019 and has a brand new LP due out on Ratskin Records  / Dark Entries Records in early 2021.  
JEFF CAREY   |  http://jeffcarey.foundation-one.org   |   https://jeffcarey.bandcamp.com 
He is an active member of Baltimore's music scene. He organizes local concerts for touring electronic musicians and is a co-curator of the High Zero Festival for improvised and experimental music and for the Diffusion Festival for electronic multichannel music. 
CORAL REMAINS   |   coralremains.bandcamp.com 
(ritual for Jsun featuring RK & MD )  CORAL REMAINS  is a post industrial sound and sculptural installation personifying the trash island in the pacific gyre. Spawning from a hybrid of human DNA and trash, CORAL REMAINS is a dystopian, amalgamated magnification of failed civilizations, spliced rogue technologies gone awry spawning dark pulses of technological neurosis and inner psychosis . When fish put fin to sand then you'll understand, fish can carry guns. CORAL REMAINS represents the last molecule before total conversion of humans into futuristic trash receptacles. Human, your skull will be in a museum.  Continuum invoking of Jsun Alien who left this mortal coil on December 2, 2016.  
DJ HEADBOOGLE  |  headboggle.bandcamp.com 
(intro & outro) 
Derek Gedalecia, a.k.a. Headboggle, has been performing electronic keyboard-based soundscapes for several years in the Bay Area in over a hundred local performances at venues ranging from GTK to YBCA. Incorporating lowbrow with highbrow art, music, and comedy, Head Boggle's intent is to fuse together a new ecstatic improvisational performance style with a carefully crafted musical underbed. In his formative years, Gedalecia studied classical and ragtime piano from noted ragtime composer/revivalist Dr. Brian Dykstra. . 
Streaming Links: 
youtube.com/c/proartsgalleryofficial 
youtube.com/c/ratskinrecordsofficial 
We will also be PREMIERING a trailer for a new project we are working on the Ratskin Records Mixed Reality Festival, a VR Festival Centering Accessibility,  co produced by Tieraney Carter and Sharmi Basu.
Fall 2020 Mission Statement.   
Ratskin Records is a collective record label and archival imprint championing de colonial experimental music centered in the Bay Area. We focus on LGBTQ+, Black, Native, POC, and disabled artists who create work that is sonically and politically pushing boundaries toward liberation. We work together to create an alternative to an industry that has historically exploited and devalued artist labor and requires artists to exhaust themselves to fulfill their life's passion. We see the work of de colonial artists as world-building activism that centers empathy and basic human needs. The crux of our work is centered in engaging the healing power of sound for communities in struggle.    
Our goal is to pay and provide material resources for artists whose work lies on the margins of mainstream consumption. Our work is multifaceted in that we take multiple avenues to address issues around accountability, accessibility, racism, transphobia, and other systems of oppression. Ratskin is curation centered in its practice and provides resources for artists to create self-determined spaces.    - Sharmi Basu, Tieraney Carter, Michael Daddona , 2020