Our 97th release is up for preorder NOW and our first release of 2023, and is this ever the perfect album to bring in the new year! We are humbled and honored to announce new artist to the roster, INDIA SKY (@_indiasky_ ) with her seminal debut full length album "Somewhere Over The Mystic Moon" which is up for preorder today and releases to the world on Feb 5, 2023.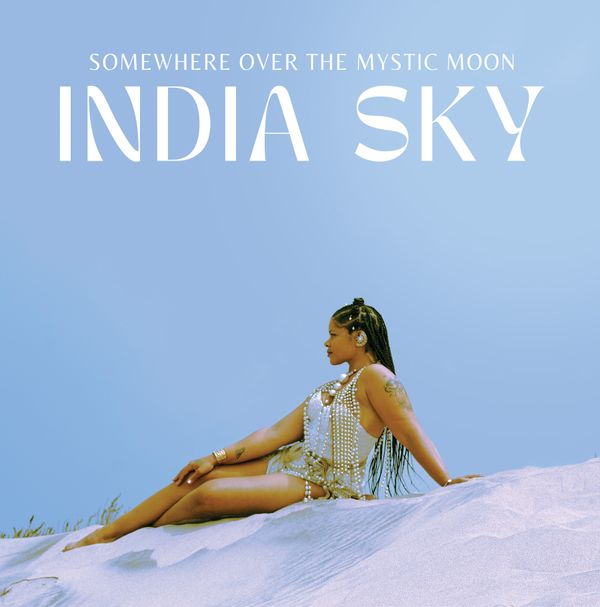 "Somewhere Over The Mystic Moon", is India Sky's first full length project, and features nine powerful, nuanced, and conceptual self-produced electronic compositions. A long time vocalist and multidisciplinary artist, India has been honing her craft as a music producer for the past several years, performing her original songs oftentimes interwoven with dance, theatrics and video projections. In her music, India channels her passion for worldmaking, crafting a sound that combines evocative lyrics, layered synths, lush, carefully cultivated vocals and imaginative storylines that often spiral into the mystical. The sonic palette of Somewhere Over The Mystic Moon is both warm and cosmic, robust and ethereal, inviting and all encompassing. 
The album's first single, "Bottom Of The Sea" is a siren's call that pulls you into the whirlpooling depths of a hypnotic and otherworldly ocean. This powerful, dreamy, dance anthem begs you to catch its wave and ride it, and leaves the sweet saltwater taste of what it might feel like to breathe under the sea with guardian whales at your side. 
The second single, "Breakdown" was just released on December 7th to critical acclaim, is a hauntingly ecstatic showpiece featuring morose synthesizers, punctuating strings, and heavy, soulful vocals backed by driving percussion. The track shape shifts both sonically and thematically more than once with slow builds, huge breaks, and clever, vivid storytelling. If this track doesn't leave you with goosebumps and nostalgia for a place and time you've never been, nothing will. 
India Sky's ability to take you willingly into her conceptual worlds only strengthens as the album goes on. She originally composed five of the nine songs on Somewhere Over the Mystic Moon for her short film, The Life Cycle of Rainbows (2021, commissioned by EMBASSY Gallery in Edinburgh) which illustrates a soul's journey through birth, maturity, death and the ancestral world. Other tracks on the project include songs that have been a part of her hybrid music + dance performances for years, reimagined, and re-shaped for the album, as well as newer compositions. 
With "Somewhere Over the Mystic Moon", India Sky has created an inspiring and complex musical universe that is as conceptually, emotionally and sonically engaging as it is refreshing and rewarding.