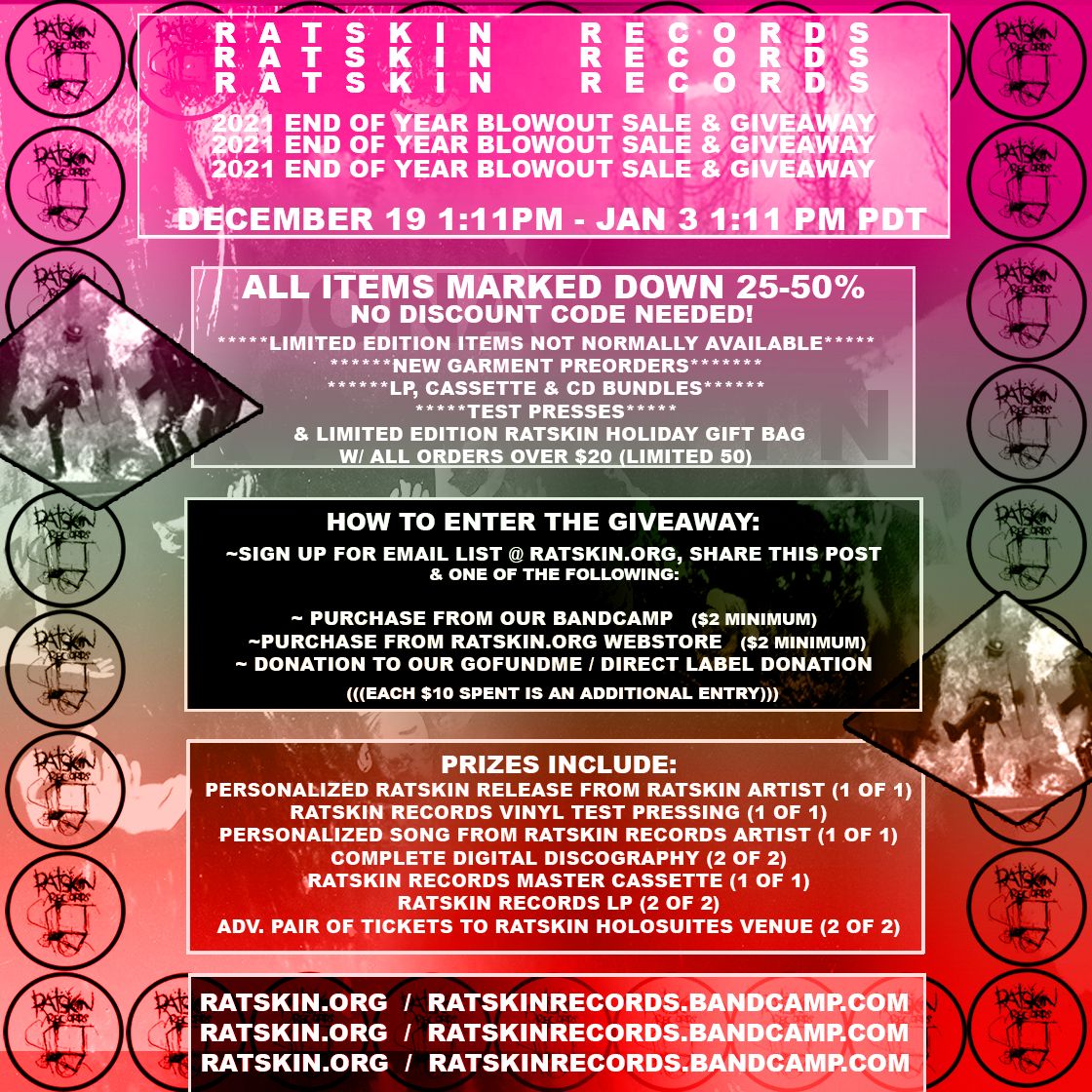 Hey folks, quick note that our end of the year  2021 BLOWOUT SALE & GIVEAWAY IS LIVE NOW. We have marked all items down 25% - 50% on our webstore and bandcamp page so no need to use a discount code.  We really appreciate all of the support this year, and hope you will consider picking something up from the sale and giveaway. We are  going all out with prizes this  year including a custom 1 of 1 release just made for you as well as a custom 1 minute song recorded JUST FOR YOU by one of our artists. Other prizes include vinyl and cassette test presses, complete digital discography and tickets for an upcoming virtual performance. Thank  you so much for you support, It's really easy to enter, see below for details! SALE INCLUDES LITERALLY EVERYTHING except for the BEAST NEST "Sicko" preorder! The sale starts today and runs through  Jan 3, 2022. 
RATSKIN RECORDS WINTER 2021 BLOWOUT SALE & GIVEAWAY  - DEC 19 - JAN 3 
*****LIMITED EDITION ITEMS NOT NORMALLY AVAILABLE***** 
******NEW GARMENT PREORDERS******* 
******LP, CASSETTE & CD BUNDLES******   
*****TEST PRESSES***** 
 & LIMITED EDITION RATSKIN HOLIDAY GIFT BAG w/ ALL ORDERS OVER $25 (Ltd. 50) 
HOW TO ENTER THE GIVEAWAY: 
SIGN UP FOR EMAIL LIST @ RATSKIN.ORG, SHARE THIS POST/POSTER 
& ONE OF THE FOLLOWING:  
PRIZES INCLUDE:  
UNIQUE PERSONALIZED RELEASE FROM RATSKIN ARTIST (1 OF 1) 
PERSONALIZED SONG FROM RATSKIN RECORDS ARTIST (1 OF 1) 
RATSKIN RECORDS VINYL TEST PRESSING (1 OF 1) 
COMPLETE DIGITAL DISCOGRAPHY (2 OF 2) 
RATSKIN RECORDS MASTER CASSETTE (1 OF 1) 
RATSKIN RECORDS LP (2 OF 2) 
ADV. PAIR OF TICKETS TO RATSKIN HOLOSUITES VENUE (2 OF 2) 
Ok, that's it! Any questions, please email ratskinsound@gmail.com 
Winners will be selected Jan 10th, 2021 and notified by email. Thank you and we love you!